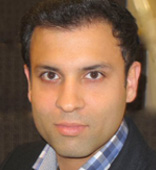 Sachin Gupta has over 15 years of experience in private equity and operations. He has worked on both early and late stage investment transactions globally, including in North America, Southeast Asia, Europe, and the Middle East. He is responsible for originating, executing and managing portfolio investments at Skyline Global Partners. Sachin is also an active early stage investor. Sachin currently sits on the boards of Lief Labs, Midwestern BioAg, Growers Edge, BRM Holdings, and Encap.
Prior to co-founding Skyline Global Partners, Sachin spent 10 years in principal investing in healthcare, energy, and manufacturing companies both in the US and abroad. Sachin was most recently at UIB Capital, a lower middle market private equity firm, where he was involved in the sourcing, execution and management of several portfolio companies. He sat on the board of Ellington Hand Bags. Prior to joining UIB Capital, Sachin was an investment professional at Toucan Capital, a growth equity firm focused on biotechnology, medical devices, and healthcare services. Before joining Toucan, Sachin worked for VentureEAST, in India, where he focused on cross-border healthcare investments and before that, he spent 2 years at IllinoisVENTURES focused on early stage investing in a variety of healthcare and technology companies. Sachin spent time in the neurological group at Medtronic Inc. and is also the co-founder of three medtech companies focused on the orthopedic and rehabilitation markets.
Sachin earned his B.A. in Economics from University of Michigan, his M.S. in Bioengineering from the University of Illinois and his M.B.A. from the Kellogg School of Management at Northwestern University.